US Macro Strategy Weekly Report – 17 July 2023
James Ooi/ uSMART Market Strategist
Over 13 years of experience in buy-side and sell-side of capital markets
Former Fund Manager of renowned asset management firm
Focus on fundamental analysis and macro-outlook for US & Singapore markets
SGX Academy trainer
This Week's Market Outlook:
This week, the primary emphasis is on the release of several significant economic indicators. On Monday, attention will be on the Empire State Manufacturing Index. Tuesday will be dedicated to the release of Retail Sales figures. Building Permits will be the focal point on Wednesday. Finally, Thursday will bring the focus to Unemployment Claims and Existing Home Sales data.

Several companies will be publishing their financial reports this week:
July 18 (Tuesday): Bank of America, Charles Schwab, Morgan Stanley, Interactive Brokers
July 19 (Wednesday): ASML, Goldman Sachs, Netflix, Tesla, IBM, Las Vegas Sands
July 20 (Thursday): TSMC, American Airlines Group, Johnson & Johnson, United Airlines, Abbott, Intuitive Surgical
July 21 (Friday): American Express
Last week, the S&P 500 and Nasdaq-100 closed 2.4% and 3.5% higher, respectively. The main reason for this increase was the lower-than-expected inflation data, including the Consumer Price Index (CPI) and the Producer Price Index (PPI). These encouraging inflation reports have led investors to anticipate a final 25 basis point (bp) interest rate hike in the upcoming July FOMC meeting.

As FOMC officials have entered the blackout period, the market's focus will now primarily be on earnings releases.

Morgan Stanley strategist Michelle Weaver said last year that every percentage point increase in the dollar on a Y/Y basis provides an approximately 0.5% hit to S&P 500 EPS growth.  The decline in the US dollar index by 12% after it reversed in October 2022 had a significant impact on the S&P 500 (Figure 1). As a result of improved EPS expectations, the S&P 500 experienced a reversal and subsequently saw a sharp rise. Going forward, it is crucial for investors to keep a close watch on the potential recovery of the US dollar, as it may have the potential to reverse the current uptrend in the S&P 500.
Figure 1: S&P 500 vs US Dollar Index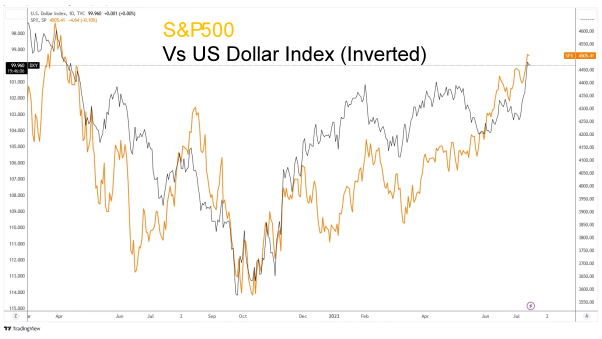 Source: Factset, 17 Jul 2023
While last year proved to be a challenging one for the S&P 500, with a negative return of 18% in 2022 and multiple drawdowns exceeding 10%, the investment landscape in 2023 has also been quite demanding. Throughout most of 2023, the S&P 500 generally exhibited upward momentum, except for the month of February, which experienced a decline of 2.6%(Figure 2). there were fewer and smaller corrections, making it more difficult for investors to find opportunities to enter the market. Additionally, market breadth has been narrow, with a handful of dominant companies known as the 'Magnificent Seven' (Microsoft, Apple, Alphabet, Nvidia, Meta Platforms, Amazon, and Tesla) contributing to over 80% of the index's overall gain in the S&P 500.

Tech-related sectors such as consumer discretionary, technology, and communication services have experienced impressive returns of 36%, 42%, and 40%, respectively. These gains can be attributed primarily to optimism surrounding the Federal Reserve's interest rate outlook. A lower discount rate leads to a higher present value.
Figure 2: S&P 500's Sector Monthly Performance

Source: uSMART, Bloomberg, 17 Jul 2023
The NAAIM Exposure Index is currently at 93.34 and is showing signs of potentially surpassing 100 in the near future. The last time NAAIM exceeded 100 (27 Oct 2022: 103.35), it took a full two months until the week of 29 Dec 2022 for the S&P 500 to reach its peak and subsequently enter a bear market. While more investors will begin monitoring the future movements of the NAAIM exposure index, it is important to recognize that the S&P 500 may not immediately undergo a correction once the NAAIM index reaches 100.
Figure 3: NAAIM Exposure Index and S&P 500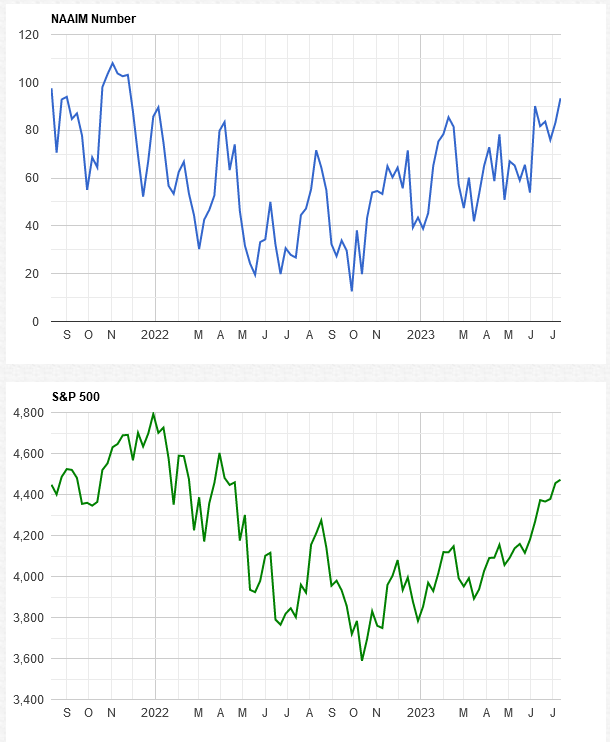 Source: NAAIM
Investors should closely monitor the second-quarter earnings season as even a slight disappointment in earnings could potentially trigger a correction in the current bull market. Additionally, there are headwinds to consider, such as persistent inflation and stretched valuations. Despite these factors, there is a prevailing optimism among AI bulls, who remain enthusiastic and continue to push the market higher, seemingly ignoring the associated risks. If second-quarter earnings exceed expectations, it is anticipated that this will further fuel bullish sentiment, with expectations of even better subsequent quarterly earnings, providing additional reasons to maintain a positive outlook.
Follow us
Find us on Twitter, Instagram, YouTube, and TikTok for frequent updates on all things investing.
Have a financial topic you would like to discuss? Head over to the uSMART Community to share your thoughts and insights about the market! Click the picture below to download and explore uSMART app!

Disclaimer:
This article is intended for general circulation and educational purpose only and does not take into account of the specific investment objectives, financial situation or particular needs of any particular person. You should seek advice from a financial adviser regarding the suitability of the investment products mentioned. In the event you choose not to seek advice from a financial adviser, you should consider whether the investment product in question is suitable for you.
Past performance figures as well as any projection or forecast used in this article, are not necessarily indicative of future performance of any investment products. Your investment is subject to investment risk, including loss of income and capital invested. The value of the investment products and the income from them may fall or rise. No warranty whatsoever is given and no liability whatsoever is accepted for any loss arising whether directly or indirectly as a result of this article. Overseas investments carry additional financial, regulatory and legal risks, you should do the necessary checks and research on the investment beforehand.
The information contained in this article has been obtained from public sources which the uSMART Securities (Singapore) Pte Ltd ("uSMART") has no reason to believe are unreliable and any research, analysis, forecast, projections, expectations and opinion (collectively "Analysis") contained in this article are based on such information and are expressions of belief only. uSMART has not verified this information and no representation or warranty, express or implied, is made that such information or Analysis is accurate, complete or verified or should be relied upon as such. Any such information or Analysis contained in this presentation is subject to change, and uSMART, its directors, officers or employees shall not have any responsibility for omission from this article and to maintain the information or Analysis made available or to supply any corrections, updates or releases in connection therewith. uSMART, its directors, officers or employees be liable for any or damages which you may suffer or incur as a result of relying upon anything stated or omitted from this article.
Views, opinions, and/or any strategies described in this article may not be suitable for all investors. Assessments, projections, estimates, opinions, views and strategies are subject to change without notice. This article may contain optimistic statements regarding future events or performance of the market and investment products. You should make your own independent assessment of the relevance, accuracy, and adequacy of the information contained in this article. Any reference to or discussion of investment products in this article is purely for illustrative purposes only, is not intended to constitute legal, tax, or investment advice of any investment products, and must not be construed as a recommendation, an offer or solicitation for the subscription, purchase or sale of the investment products mentioned. This article does not create any legally binding obligations on uSMART. uSMART, its directors, connected persons, officers or employees may from time to time have an interest in the investment products mentioned in this article.