Report by James Ooi/ uSMART Market Strategist 
Summary: The analyst believes that: Short-term bearish, medium to long-term bullish. The market is expected to undergo a final decline before the new bull cycle due to a lack of supportive fundamentals in the current uptrend. Difficult to predict the short-term bottom, so investors should allocate at least 70% of funds to avoid missing market rebounds. Individual stocks may reach short-term peaks, increasing the risk of losses. Consider investing in ETFs (SPY, QQQ, SUSA) for market returns.

About James:
Over 13 years of experience in buy-side and sell-side of capital markets
Former Fund Manager of renowned asset management firm
Focus on fundamental analysis and macro-outlook for US &Singapore markets
SGX Academy trainer
This Week's Market Outlook
This week's important economic data in the United States includes: April Retail Sales released on Tuesday, Housing Starts and Building Permits released on Wednesday, Initial Jobless Claims and Existing Home Sales released on Thursday. In addition, several officials from the Federal Reserve will be giving speeches throughout the week, with Friday being a particularly noteworthy day as Fed Chair Powell will participate in a discussion on monetary policy with former Chair Bernanke.
Investors will closely monitor corporate earnings this week, specifically from Home Depot on Tuesday, TJX Companies Inc., Cisco, and Target on Wednesday, Walmart on Thursday, and Foot Locker and Deere & Company on Friday. The primary focus will be on the earnings of US retailers.
As of last Friday, 92% of the companies in the S&P 500 index had released their earnings reports, and 78% of them reported higher-than-expected EPS. This has led investors to raise their earnings expectations for 2023 and 2024, as shown in Figure 1. Market participants believe that the worst is behind us in terms of estimated EPS, and they are expecting to see improving EPS estimates, which will help push the S&P 500 index higher. However, the market's consensus on EPS expectations may be overly optimistic, as the leading indicator, the ISM Manufacturing Purchasing Managers Index, continues to show weakness."
Figure 1: S&P 500's EPS for 2023 and 2024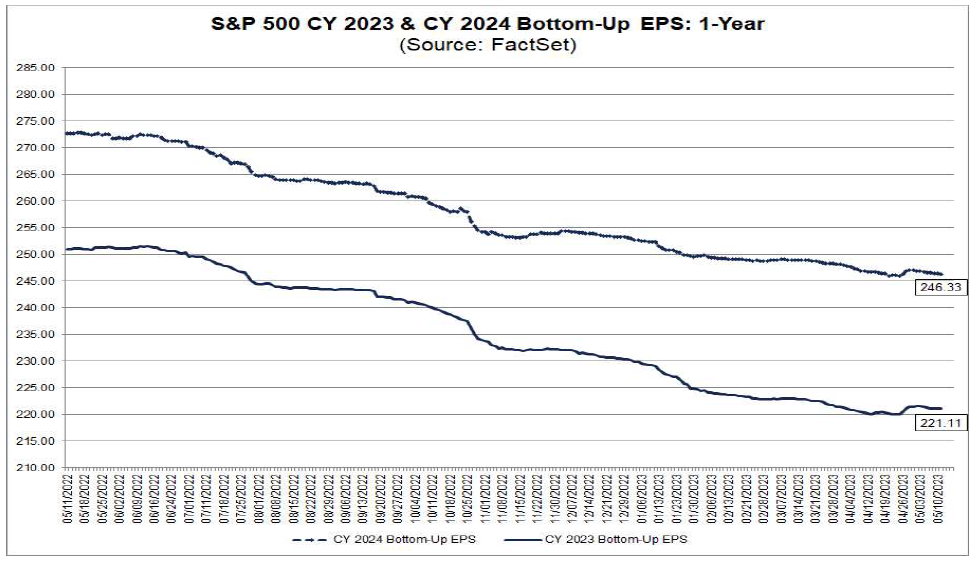 Source: Factset, 12 May 2023
Based on historical data, as depicted in Figure 2, the ISM Manufacturing Purchasing Managers Index is a leading indicator for EPS. A drop in the ISM Manufacturing Purchasing Managers Index usually has a negative impact on EPS. Typically, the ISM Manufacturing Purchasing Managers Index leads S&P 500 EPS YoY growth by 12 months. The chart shows that the year-over-year growth rate of EPS is projected to reach its lowest point in March 2024, suggesting that recent earnings expectations may be overly optimistic. As a result, the US stock market may not be able to sustain its high prices.
Figure 2: S&P 500 EPS YoY Growth vs ISM Manufacturing PMI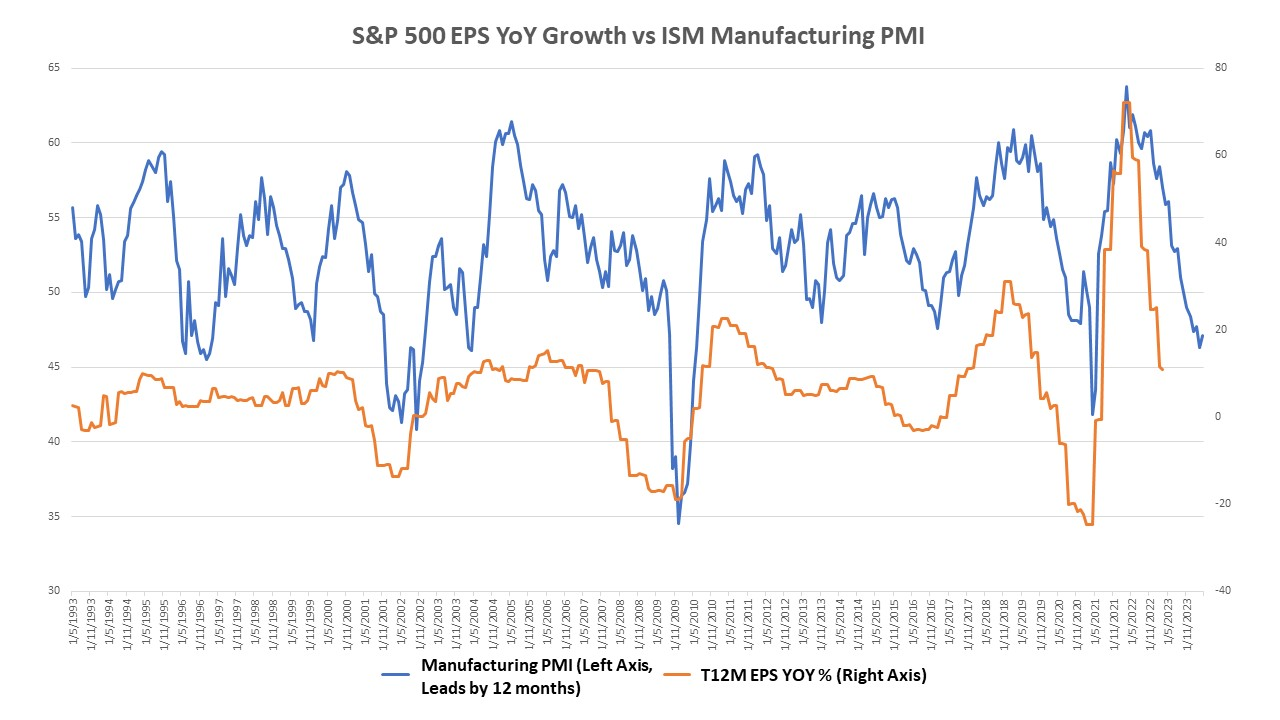 Source: uSMART, Bloomberg, 16 May 2023
Typically, during a recession, US stocks do not generate earnings surprises of this magnitude(Figure 3). Therefore, this suggests that at worst, we can expect a soft landing.
Figure 3: S&P 500 Positive-negative Surprises vs S&P 500 12M Forward EPS

Source: Macroband, 14 May 2023
The May reading for the New York State Manufacturing Index in the US has plummeted to negative 31.8 (shown in Figure 4), far below the expected value of -3.7, marking the largest decline in over three years. In contrast, the index previous stood at 10.8 in April. This dismal data suggests that investors' expectations for an economic recovery may be premature.
Figure 4: NY Empire State Manufacturing Index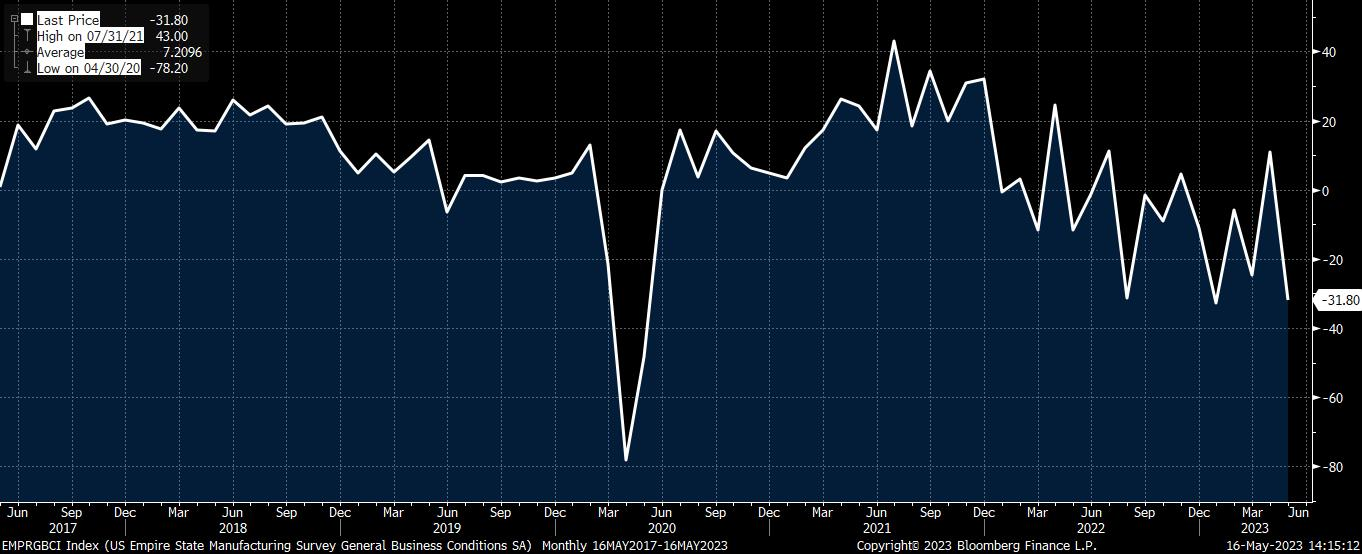 Source: Bloomberg, 16 May 2023
Conclusion:
So far in May, the 'Sell in May and go away' adage still has not shown much momentum, with only a slight decline of 0.71%."

Market participants may try to push the S&P 500 index up to the range of 4200-4300 in order to trigger a short squeeze and force the sellers to cover their positions. A sell-off is only likely to be triggered after hedge funds abandon their short positions.

I am still leaning towards a bearish outlook in the short term but bullish in the medium to long term. The market is likely to experience one last round of decline before embarking on a new bull cycle, as the current uptrend lacks supportive fundamentals. Predicting the short-term bottom is challenging, and therefore investors should not remain completely on the sidelines. Instead, they should allocate at least 70% of their funds to avoid missing out on potential market rebounds.

Some individual stocks may be reaching short-term peaks, which increases the risk of getting trapped with losses in individual stocks. However, investors can consider investing in ETFs such as SPY, QQQ, and SUSA to capture some market returns.
Follow us
Find us on Twitter, Instagram, YouTube , and TikTok for frequent updates on all things investing.
Have a financial topic you would like to discuss? Head over to the uSMART Community to share your thoughts and insights about the market! Click the picture below to download and explore uSMART app!

Disclaimer:
This article is intended for general circulation and educational purpose only and does not take into account of the specific investment objectives, financial situation or particular needs of any particular person. You should seek advice from a financial adviser regarding the suitability of the investment products mentioned. In the event you choose not to seek advice from a financial adviser, you should consider whether the investment product in question is suitable for you.
Past performance figures as well as any projection or forecast used in this article, are not necessarily indicative of future performance of any investment products. Your investment is subject to investment risk, including loss of income and capital invested. The value of the investment products and the income from them may fall or rise. No warranty whatsoever is given and no liability whatsoever is accepted for any loss arising whether directly or indirectly as a result of this article. Overseas investments carry additional financial, regulatory and legal risks, you should do the necessary checks and research on the investment beforehand.
The information contained in this article has been obtained from public sources which the uSMART Securities (Singapore) Pte Ltd ("uSMART") has no reason to believe are unreliable and any research, analysis, forecast, projections, expectations and opinion (collectively "Analysis") contained in this article are based on such information and are expressions of belief only. uSMART has not verified this information and no representation or warranty, express or implied, is made that such information or Analysis is accurate, complete or verified or should be relied upon as such. Any such information or Analysis contained in this presentation is subject to change, and uSMART, its directors, officers or employees shall not have any responsibility for omission from this article and to maintain the information or Analysis made available or to supply any corrections, updates or releases in connection therewith. uSMART, its directors, officers or employees be liable for any or damages which you may suffer or incur as a result of relying upon anything stated or omitted from this article.
Views, opinions, and/or any strategies described in this article may not be suitable for all investors. Assessments, projections, estimates, opinions, views and strategies are subject to change without notice. This article may contain optimistic statements regarding future events or performance of the market and investment products. You should make your own independent assessment of the relevance, accuracy, and adequacy of the information contained in this article. Any reference to or discussion of investment products in this article is purely for illustrative purposes only, is not intended to constitute legal, tax, or investment advice of any investment products, and must not be construed as a recommendation, an offer or solicitation for the subscription, purchase or sale of the investment products mentioned. This article does not create any legally binding obligations on uSMART. uSMART, its directors, connected persons, officers or employees may from time to time have an interest in the investment products mentioned in this article.