Source: Zaobaosg
Reported by Oi Lai Lai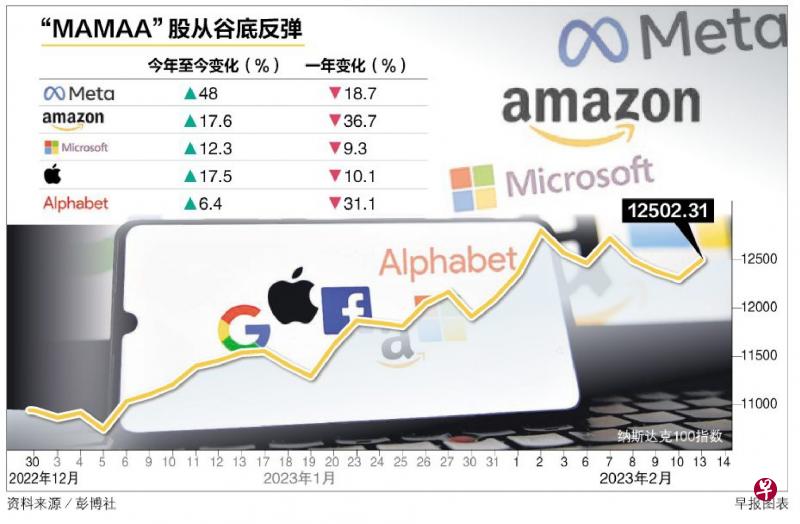 "MAMAA" stocks rebounded from the bottom
US technology stocks have rebounded strongly this year, but the market has mixed views on their prospects. Optimistic investors believe that the companies' earnings will maintain their recovery, while others see weak profit growth and continued pressure on technology stocks.
With the US Federal Reserve raising interest rates by 425 basis points, inflation on the rise, energy prices increasing, ongoing conflict between Russia and Ukraine, and supply chain disruptions, global economic growth has slowed down. Last year, the global technology sector faced a "perfect storm," resulting in a 30% decline in technology stocks.
The "MAMAA" stocks, which consist of the five major technology companies Facebook's parent company Meta Platforms, Amazon, Microsoft, Apple, and Google's parent company Alphabet, dropped approximately 10% to 37% over the year. However, this year, global technology stocks, with the US being the main market, have risen more than 10%. A report from DBS Bank suggests that the market no longer seems to care about the challenges faced by technology stocks last year, and is now looking forward to the recovery of the companies' operational and financial indicators.
"Although the recent earnings performance of large technology companies varies, management teams are generally optimistic about the prospects of their companies. They believe that end demand has rebounded, pricing power is resilient, they have streamlined their workforce, the Chinese market has reopened, and profits are expected to recover," the DBS report stated.
The report also estimated that global technology stocks would see a 20% earnings increase in 2024, and it sees potential in large technology stocks and technology companies that drive digital transformation. This includes cloud computing, graphic design, data analysis, electric cars, online content, high-performance computing, network security, and semiconductor equipment.
Peter Garnry, head of equity strategy at Saxo Bank, told the Lianhe Zaobao in an interview that the market expects the economy to accelerate rather than fall into a recession. In addition, with inflation slowing down, global stock markets have rebounded strongly since mid-October last year, and the stock market has become overextended, causing some funds to flow into technology stocks.
"We will go where we go largely depends on the bond market. If inflation changes are sticky, profits may rise, which could suppress the stock market's risk sentiment," Garnry said.
Hu Ke Jun, senior analyst at Phillip Securities, said in an interview that the NASDAQ 100 index has shown a very strong increase since the beginning of the year. However, he found that this was driven by retail investors, while institutional investors remained relatively cautious.
Hu Ke Jun pointed out that ETFs that track meme stocks have risen by about 30% so far this year. However, some individual stocks such as Rivian, AMC, and Robinhood are still not profitable.
"We believe that the earnings of technology companies have been relatively disappointing so far, and the revenue growth forecast of each company is quite weak this year. It is too early to say that technology stocks are entering a bull market in the short term. The only advantage in the short term is that companies are cutting costs and laying off employees to expand profits.
Interviewed analyst: Optimistic about streaming platforms and travel technology
Hu Ke Jun is relatively optimistic about streaming platform and travel technology companies such as Netflix, Spotify, Trip.com, Booking Holdings, and Airbnb. He believes that streaming platforms have a steady source of income, while travel technology stocks can continue to benefit from the reopening of borders and the continued recovery of travel demand, especially in Asia.
Hu Ke Jun is not optimistic about Amazon, Sea Limited, Snap, and Meta Platforms, and believes that e-commerce platforms and advertising-dependent media will be affected by weak consumer spending.
James Ooi, a market strategist at uSMART Securities (Singapore) Pte. Ltd, also said that the rise of US technology stocks is not driven by earnings per share growth, but more by the P/E ratio. In the long run, he is optimistic about the semiconductor industry and autonomous driving industry, but not optimistic about the gaming industry.
James Ooi pointed out that OpenAI, an artificial intelligence research organization, recently launched the chatbot ChatGPT, which has attracted many technology giants to invest billions of dollars in its development. Nvidia's chip business can benefit from the expansion of artificial intelligence.
Taiwan Semiconductor Manufacturing Company (TSMC) has a 60% market share in wafer foundry and more than 85% in the 5nm and 10nm advanced process market. It is the second semiconductor company that Huang Shijin is optimistic about.
Overall, if the risk of a global economic slowdown or recession weakens, the United States starts to cut interest rates, and profits exceed expectations, the future of technology stocks is more optimistic. On the other hand, the risk of technology stocks falling is caused by economic "hard landing," more severe profit declines than expected, and the US extending its interest rate hike cycle.
Disclaimer:
This article is intended for general circulation and educational purpose only and does not take into account of the specific investment objectives, financial situation or particular needs of any particular person. You should seek advice from a financial adviser regarding the suitability of the investment products mentioned. In the event you choose not to seek advice from a financial adviser, you should consider whether the investment product in question is suitable for you.
Past performance figures as well as any projection or forecast used in this article, are not necessarily indicative of future performance of any investment products. Your investment is subject to investment risk, including loss of income and capital invested. The value of the investment products and the income from them may fall or rise. No warranty whatsoever is given and no liability whatsoever is accepted for any loss arising whether directly or indirectly as a result of this article. Overseas investments carry additional financial, regulatory and legal risks, you should do the necessary checks and research on the investment beforehand.
The information contained in this article has been obtained from public sources which the uSMART Securities (Singapore) Pte Ltd ("uSMART") has no reason to believe are unreliable and any research, analysis, forecast, projections, expectations and opinion (collectively "Analysis") contained in this article are based on such information and are expressions of belief only. uSMART has not verified this information and no representation or warranty, express or implied, is made that such information or Analysis is accurate, complete or verified or should be relied upon as such. Any such information or Analysis contained in this presentation is subject to change, and uSMART, its directors, officers or employees shall not have any responsibility for omission from this article and to maintain the information or Analysis made available or to supply any corrections, updates or releases in connection therewith. uSMART, its directors, officers or employees be liable for any or damages which you may suffer or incur as a result of relying upon anything stated or omitted from this article.
Views, opinions, and/or any strategies described in this article may not be suitable for all investors. Assessments, projections, estimates, opinions, views and strategies are subject to change without notice. This article may contain optimistic statements regarding future events or performance of the market and investment products. You should make your own independent assessment of the relevance, accuracy, and adequacy of the information contained in this article. Any reference to or discussion of investment products in this article is purely for illustrative purposes only, is not intended to constitute legal, tax, or investment advice of any investment products, and must not be construed as a recommendation, an offer or solicitation for the subscription, purchase or sale of the investment products mentioned. This article does not create any legally binding obligations on uSMART. uSMART, its directors, connected persons, officers or employees may from time to time have an interest in the investment products mentioned in this article.