Source: Lianhe Zaobao
2023-01-25 05:00
The return of Chinese tourists after reopening is injecting a boost into the Asia-Pacific consumer market. As the global economy faces challenges, analysts are optimistic about the long-term development of the local consumption stock, especially the essential consumer goods sector, which has greater resilience during economic downturns.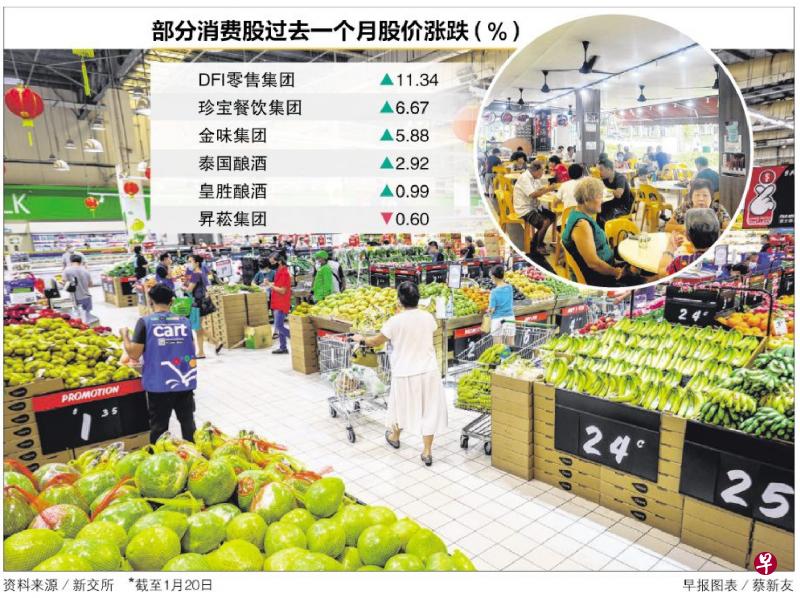 Part of the change in stock prices of consumer stocks over the past month (in %)
Over the past month, the MSCI Asia Pacific Index, which measures the performance of large-cap stocks in the Asia-Pacific region, has risen 6.39%. Compared to other regions, the Straits Times Index in Singapore has only risen 0.83%, but the FTSE ST Non-Essential Consumer Goods Index and Essential Consumer Goods Index outperformed the Straits Times Index, rising 3.36% and 0.44%, respectively.
uSMART Securities (Singapore) Pte. Ltd market strategist, James Ooi, said that the local consumption market is expected to be boosted by the return of Chinese tourists, which will have a positive impact on consumption stocks in the long run. Since stock prices tend to move ahead of news, the stock prices have already started to rise since November of last year when the market expected China to reopen. In the short term, stock prices may decline temporarily due to overbuying, but after China fully implements its border reopening, the overall market sentiment will continue to improve and the rebound in consumer stocks may last longer than expected.
FSMOne.com's Senior Investment Portfolio Manager, Mr. You Wei Ren, said that the friendly attitude of our country towards tourists will attract them to visit, unlike Japan, South Korea, and some other countries that have implemented entry controls. The increase in tourists will undoubtedly have an immediate impact on the local tourism and consumer markets in the short term.
It is suggested that investors consider more defensive stocks.
However, You Wei Ren pointed out that this short-term boost will be weakened by the slowing global trade and China's increase in consumption tax this year. Local consumers may have already consumed in advance to avoid the consumption tax hike. He noted that local consumer spending has already slowed down this year.
You Wei Ren suggests that investors consider stocks with more defensive characteristics. He says that in an uncertain economic environment, essential consumer goods may be more resilient, such as supermarket operators such as Sheng Siong and Dairy Farm International, as well as coffee shop operator Kimly Group, which are relatively less affected by economic fluctuations.
Emperador and ThaiBev, although also essential consumer goods, have a higher degree of consumer discretionary spending and sales are easily affected by the economic environment. In addition, wine and beverage manufacturers are also facing high cost issues, which are not conducive to the sales and profits of enterprises.
Huang Jia Ren believes that ThaiBev is a direct beneficiary of China's opening up, and the brand effect can allow the group to pass on the rising costs to consumers.
Tan Ying Ying, Chief Stockbroker of Hui Li Securities, says that Kimly Group has won many Muslim customer groups through its Tenderfresh halal brand, driving last year's revenue growth. The group has a strong cash flow and added eight coffee shops last year, with a stable business. However, the rise in labor and raw material costs will affect the group's profit margin. In addition, 80% of the group's shares are concentrated in the hands of a few people, which is another potential risk.
The stock of Emperador has just been selected into the Hang Seng Index after listing on the second board of the SGX in July last year, said Tan Ying Ying. The company's fundamentals are good, with adequate cash flow and a significant reduction in the debt-to-equity ratio last year. However, the biggest problem for the company is the cost pressure caused by inflation, which is particularly evident in its cognac business. Investors must always keep an eye on the price of raw materials.
Compared to stocks of essential goods, stocks of non-essential goods, such as restaurants, will be more greatly affected as consumers reduce spending, said You Wei Ren. Although China has been opened up, flights are limited and tickets are expensive, so Chinese tourists may not return so soon.
Tan Ying Ying believes that with the full lifting of the ban in China, the influx of tourists will continue to drive the business of local catering operators. The Jumbo Group has been continuously repurchasing its shares in the past month, indicating its confidence in the growth of its business.
Disclaimer:
This article is intended for general circulation and educational purpose only and does not take into account of the specific investment objectives, financial situation or particular needs of any particular person. You should seek advice from a financial adviser regarding the suitability of the investment products mentioned. In the event you choose not to seek advice from a financial adviser, you should consider whether the investment product in question is suitable for you.
Past performance figures as well as any projection or forecast used in this article, are not necessarily indicative of future performance of any investment products. Your investment is subject to investment risk, including loss of income and capital invested. The value of the investment products and the income from them may fall or rise. No warranty whatsoever is given and no liability whatsoever is accepted for any loss arising whether directly or indirectly as a result of this article. Overseas investments carry additional financial, regulatory and legal risks, you should do the necessary checks and research on the investment beforehand.
The information contained in this article has been obtained from public sources which the uSMART Securities (Singapore) Pte Ltd ("uSMART") has no reason to believe are unreliable and any research, analysis, forecast, projections, expectations and opinion (collectively "Analysis") contained in this article are based on such information and are expressions of belief only. uSMART has not verified this information and no representation or warranty, express or implied, is made that such information or Analysis is accurate, complete or verified or should be relied upon as such. Any such information or Analysis contained in this presentation is subject to change, and uSMART, its directors, officers or employees shall not have any responsibility for omission from this article and to maintain the information or Analysis made available or to supply any corrections, updates or releases in connection therewith. uSMART, its directors, officers or employees be liable for any or damages which you may suffer or incur as a result of relying upon anything stated or omitted from this article.
Views, opinions, and/or any strategies described in this article may not be suitable for all investors. Assessments, projections, estimates, opinions, views and strategies are subject to change without notice. This article may contain optimistic statements regarding future events or performance of the market and investment products. You should make your own independent assessment of the relevance, accuracy, and adequacy of the information contained in this article. Any reference to or discussion of investment products in this article is purely for illustrative purposes only, is not intended to constitute legal, tax, or investment advice of any investment products, and must not be construed as a recommendation, an offer or solicitation for the subscription, purchase or sale of the investment products mentioned. This article does not create any legally binding obligations on uSMART. uSMART, its directors, connected persons, officers or employees may from time to time have an interest in the investment products mentioned in this article.