Source: Zaobaosg
Reported by Zhou Yue Xiang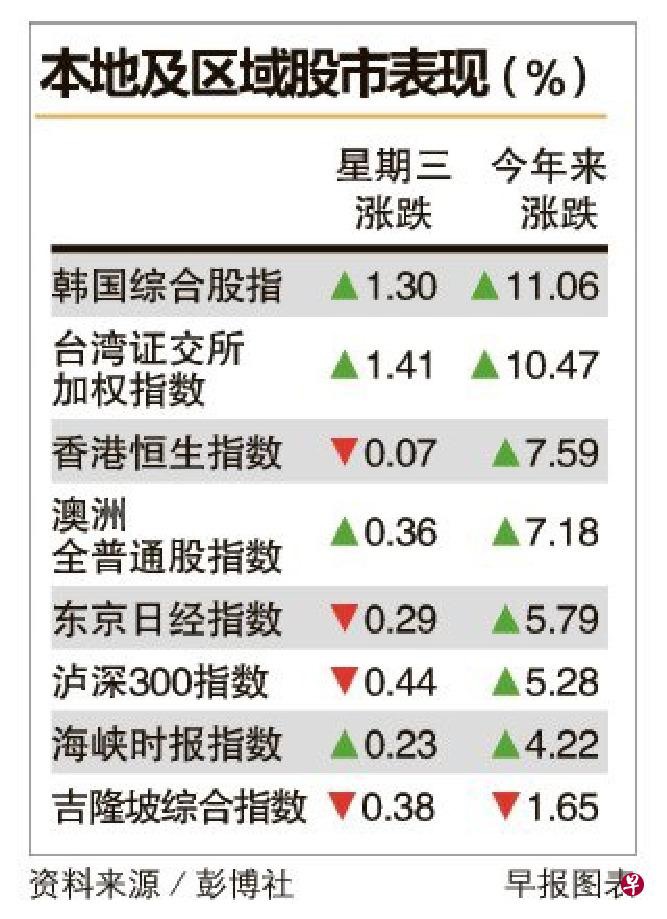 Local and Regional Stock Market Performance (%)
Regarding the mixed performance in the Asian market, Binni Ong, technical analysis training manager at TerraSeeds MT, pointed out that as investors further digest the content of Jerome Powell's speech, they believe that his stance is actually more hawkish.
In response to the latest comments from Federal Reserve Chairman Jerome Powell, some investors have interpreted it as a dovish signal, which boosted US stocks. However, this optimism has not spread to all Asian markets, with Asian stock markets showing varying performance on Wednesday (February 8th).
Fueled by the rise in US stocks, the stock markets in Taiwan and Seoul saw the most significant gains, with increases of 1.41% and 1.3% respectively, while the gains in the stock markets of Singapore and Sydney did not exceed 0.36%. The declines in the stock markets of Hong Kong, Seoul, China, and Kuala Lumpur did not exceed 0.44%.
Regarding the differing performance of Asian markets, Binni Ong, the Director of Technical Analysis Training from TerraSeeds MT, was interviewed by Lianhe Zaobao and stated that investors are further digesting the content of Powell's speech and believe that his stance is actually more hawkish.
In his speech at the Washington Economic Club on Tuesday (7th), Powell maintained his previous stance. He said that disinflation has already begun in the US, but if the job market remains strong, the Fed may raise interest rates further.
The Federal Reserve has slowed down its pace of interest rate hikes, with a 25 basis point hike at the beginning of February being the smallest in nearly a year. However, the strong growth in non-farm employment in the United States in January has raised market concerns that the Fed may become more aggressive in its interest rate hikes.
IG market strategist Ye Jun Rong said that although the strong growth in non-farm employment in the US paves the way for a more hawkish interest rate hike by the Fed, Powell's comments were interpreted as dovish, causing the three major US stock indexes to close higher at the end of a volatile Tuesday.
uSMART market strategist James Ooi believes that the rise in US stocks is due to the "Fear of Missing Out" (FOMO), as the S&P 500 index has risen nearly 9% this year, and investors do not want to wait for a market correction before buying in.
"Although Powell indicated that the job market remains strong and that interest rates will be higher than previously estimated by the Fed, investors chose to focus more on the fact that the pace of inflation has started to slow down, boosting the stock market," said Huang.
James added that investors will continue to pay close attention to the Fed's interest rate hikes, with the market currently expecting the endpoint interest rate to be between 5% and 5.25%, and the Fed is not expected to begin reducing interest rates until December.
Investors are warned not to be overly optimistic
As China's economy reopens and the central bank slows its pace of interest rate hikes, investor confidence has been boosted. In addition to the Kuala Lumpur stock market, stock markets in the Asia-Pacific region have generally risen this year, with gains ranging from 4.22% to 11.06%.
Despite this, James Ooi warns investors not to be overly optimistic, as the recent stock market rebound is mainly due to the expansion of company valuations, but their profit performance is quite poor and the stock price is likely to decline.
He is optimistic about the prospects of the US, Singapore and Chinese stock markets this year. "The possibility of a soft landing in the US economy is high this year and the US stock market should outperform the market."
James Ooi analyzed that China's reopening is a long-term positive factor for the Chinese stock market and further boosts the global economy, benefiting trade-dependent economies such as Singapore. However, he also warns that the valuations of Chinese listed companies will become expensive in the short term, so a decline may occur.
Philip Nova analyst Lim Zhi Sen is optimistic about the Chinese stock market, especially in cyclical industries such as consumption and tourism. The Chinese government is clearly prioritizing support for economic recovery and has not seen any signs of tightening of epidemic control policies. In addition, China's relatively low inflation will support local consumers' retaliatory consumption.
Disclaimer:
This article is intended for general circulation and educational purpose only and does not take into account of the specific investment objectives, financial situation or particular needs of any particular person. You should seek advice from a financial adviser regarding the suitability of the investment products mentioned. In the event you choose not to seek advice from a financial adviser, you should consider whether the investment product in question is suitable for you.
Past performance figures as well as any projection or forecast used in this article, are not necessarily indicative of future performance of any investment products. Your investment is subject to investment risk, including loss of income and capital invested. The value of the investment products and the income from them may fall or rise. No warranty whatsoever is given and no liability whatsoever is accepted for any loss arising whether directly or indirectly as a result of this article. Overseas investments carry additional financial, regulatory and legal risks, you should do the necessary checks and research on the investment beforehand.
The information contained in this article has been obtained from public sources which the uSMART Securities (Singapore) Pte Ltd ("uSMART") has no reason to believe are unreliable and any research, analysis, forecast, projections, expectations and opinion (collectively "Analysis") contained in this article are based on such information and are expressions of belief only. uSMART has not verified this information and no representation or warranty, express or implied, is made that such information or Analysis is accurate, complete or verified or should be relied upon as such. Any such information or Analysis contained in this presentation is subject to change, and uSMART, its directors, officers or employees shall not have any responsibility for omission from this article and to maintain the information or Analysis made available or to supply any corrections, updates or releases in connection therewith. uSMART, its directors, officers or employees be liable for any or damages which you may suffer or incur as a result of relying upon anything stated or omitted from this article.
Views, opinions, and/or any strategies described in this article may not be suitable for all investors. Assessments, projections, estimates, opinions, views and strategies are subject to change without notice. This article may contain optimistic statements regarding future events or performance of the market and investment products. You should make your own independent assessment of the relevance, accuracy, and adequacy of the information contained in this article. Any reference to or discussion of investment products in this article is purely for illustrative purposes only, is not intended to constitute legal, tax, or investment advice of any investment products, and must not be construed as a recommendation, an offer or solicitation for the subscription, purchase or sale of the investment products mentioned. This article does not create any legally binding obligations on uSMART. uSMART, its directors, connected persons, officers or employees may from time to time have an interest in the investment products mentioned in this article.