Source: Lianhe Zaobao
December 14, 2022
This year, the market has been tough, and local listed companies have actively launched stock buybacks to support stock prices. In the first 11 months of this year, the total amount of buybacks exceeded 1.6 billion yuan, surpassing last year's full year. In the first 11 months of this year's stock buybacks, Keppel Corporation accounted for nearly one-third of the total buyback amount.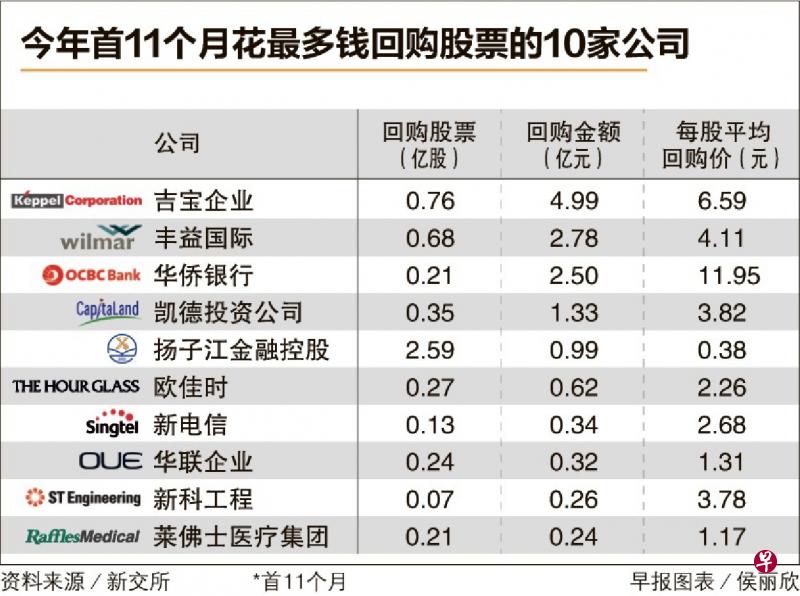 The top 10 companies that spent the most money buying back shares in the first 11 months of this year
According to statistics obtained by Lianhe Zaobao from the Singapore Exchange, a total of 84 first-listed companies repurchased shares, with a total amount of 1.66 billion yuan, in the first 11 months of this year, exceeding last year's full-year total of 1.186 billion yuan.
The most active companies in repurchasing shares include Keppel Corporation, Wilmar International, OCBC Bank, CapitaLand and Yangzijiang Financial Holding Ltd.
Among them, Keppel Corporation, which announced a 500 million yuan stock buyback plan at the beginning of the year, spent 4.9999 billion yuan and repurchased about 75.86 million shares, with an average price of 6.59 yuan per share.
New exchange market strategist, Geoff Howie, said in an interview that the motives for stock buybacks can include employee compensation plans or long-term capital management.
Howie stated, "Long-term capital management is the main reason for the overall increase in buybacks in the first 11 months of 2022 compared to 2021. Keppel Corporation has bought back shares worth $500 million, which is less than the $15 million in 2021."
uSMART Securities (Singapore) Pte. Ltd market strategist, James Ooi, said that the situation of large stock buybacks also occurs in the United States. He cited data from Birinyi Associates, stating that US companies' buyback scale this year will reach a record-breaking $1.25 trillion.
James Ooi said that various uncertain factors such as adverse macro-environment, concerns about economic recession, and rising interest rates, have led company management to be unwilling to use surplus cash for new projects and expansion, but rather to buy back stocks in order to increase earnings per share, which is one of the simplest ways to create shareholder value.
If there is an economic recession in 2023, listed companies may suspend stock buybacks in order to reserve capital. However, during the economic recession of 2020, when investment opportunities were limited, stock buybacks increased. In the global market, listed companies are still very active in buying back shares. 2023 may continue the trend since 2019 and stock buybacks will likely continue to increase.
CGS-CIMB Securities International Pte. Ltd. online trading platform ProsperUs Content and Investment Director, Fan Ying Hua, said in an interview: "It is difficult to predict the situation next year, as many buyback actions depend on individual companies, such as Keppel Corporation, and how the management views the company's stock price."
Fan Ying Hua used Keppel Corporation as an example, pointing out that Keppel Corporatio's large-scale buyback of shares is partly due to the company having extra capital. On the other hand, the repurchased shares may be used in future acquisition cases to drive the company's next stage of growth.
Fan Ying Hua believes that there is no good or bad when it comes to a company buying back shares. "For shareholders, it's more important that the management doesn't continue to buy back shares at too high a stock price. An example is Meta Platforms, the parent company of Facebook, which spent about $45 billion on buybacks in 2021, at an average price of $330. Its current stock price is only around $115."
Fan Ying Hua also suggests that shareholders pay attention to the change in the number of shares recorded in each financial statement released by the company, in order to understand if the total number of shares has actually decreased.
Shares repurchased by the company can be converted into treasury shares, which means they are no longer shares that are circulating on the market. Decreasing circulating shares helps to drive up stock prices.
Disclaimer:
This article is intended for general circulation and educational purpose only and does not take into account of the specific investment objectives, financial situation or particular needs of any particular person. You should seek advice from a financial adviser regarding the suitability of the investment products mentioned. In the event you choose not to seek advice from a financial adviser, you should consider whether the investment product in question is suitable for you.
Past performance figures as well as any projection or forecast used in this article, are not necessarily indicative of future performance of any investment products. Your investment is subject to investment risk, including loss of income and capital invested. The value of the investment products and the income from them may fall or rise. No warranty whatsoever is given and no liability whatsoever is accepted for any loss arising whether directly or indirectly as a result of this article. Overseas investments carry additional financial, regulatory and legal risks, you should do the necessary checks and research on the investment beforehand.
The information contained in this article has been obtained from public sources which the uSMART Securities (Singapore) Pte Ltd ("uSMART") has no reason to believe are unreliable and any research, analysis, forecast, projections, expectations and opinion (collectively "Analysis") contained in this article are based on such information and are expressions of belief only. uSMART has not verified this information and no representation or warranty, express or implied, is made that such information or Analysis is accurate, complete or verified or should be relied upon as such. Any such information or Analysis contained in this presentation is subject to change, and uSMART, its directors, officers or employees shall not have any responsibility for omission from this article and to maintain the information or Analysis made available or to supply any corrections, updates or releases in connection therewith. uSMART, its directors, officers or employees be liable for any or damages which you may suffer or incur as a result of relying upon anything stated or omitted from this article.
Views, opinions, and/or any strategies described in this article may not be suitable for all investors. Assessments, projections, estimates, opinions, views and strategies are subject to change without notice. This article may contain optimistic statements regarding future events or performance of the market and investment products. You should make your own independent assessment of the relevance, accuracy, and adequacy of the information contained in this article. Any reference to or discussion of investment products in this article is purely for illustrative purposes only, is not intended to constitute legal, tax, or investment advice of any investment products, and must not be construed as a recommendation, an offer or solicitation for the subscription, purchase or sale of the investment products mentioned. This article does not create any legally binding obligations on uSMART. uSMART, its directors, connected persons, officers or employees may from time to time have an interest in the investment products mentioned in this article.