Anyone who's trading nowadays is doing so through an online broker. Saying you "don't invest online but through a real, live broker" is like saying you "don't own a smartphone" or "still make money transfers by showing up physically at bank branches" — i.e. you are either ancient or trying to make an anti-technology political statement.
Using an online broker just makes a lot of sense. You can trade from the comfort of your own home, and fees are usually lower as you don't need an actual person to be at your beck and call. You can trade whenever you want thanks to 24/7 access, and if your broker has a mobile app, you can also trade on your phone while you're commuting.
However, before you rush to sign up for the first mobile brokerage that pops up on Google — and especially if you're a total beginner — you should take extra steps to ensure that your brokerage of choice is safe and reputable.
Here's a quick checklist of what to do before selecting an online broker and placing your first trade.
1. Check before downloading the online broker's mobile app
Not all online brokers are created equal! Before you download an online broker's mobile app, first check to make sure it is licensed by the Monetary Authority of Singapore (MAS).MAS-licensed brokers must abide by regulatory safeguards. For instance, they must fulfil disclosure requirements whenever offering investment products, and must obey certain rules of conduct when dealing with customers. Non-licensed brokers are not compelled to follow these rules.
In addition to checking for MAS licensing, you should also read reviews from reputable sources about any online broker you are considering. Make sure it is not a fake app that is too good to be true.
By the way, don't get misled by advertisements. Just because you see lots of ads about an online broker doesn't mean that it is reliable. Targeted online advertising is very common nowadays, and you might be receiving a flood of ads for a broker because of your online activity — that doesn't mean that they are a particularly reputable company or that other internet users are receiving the same ads.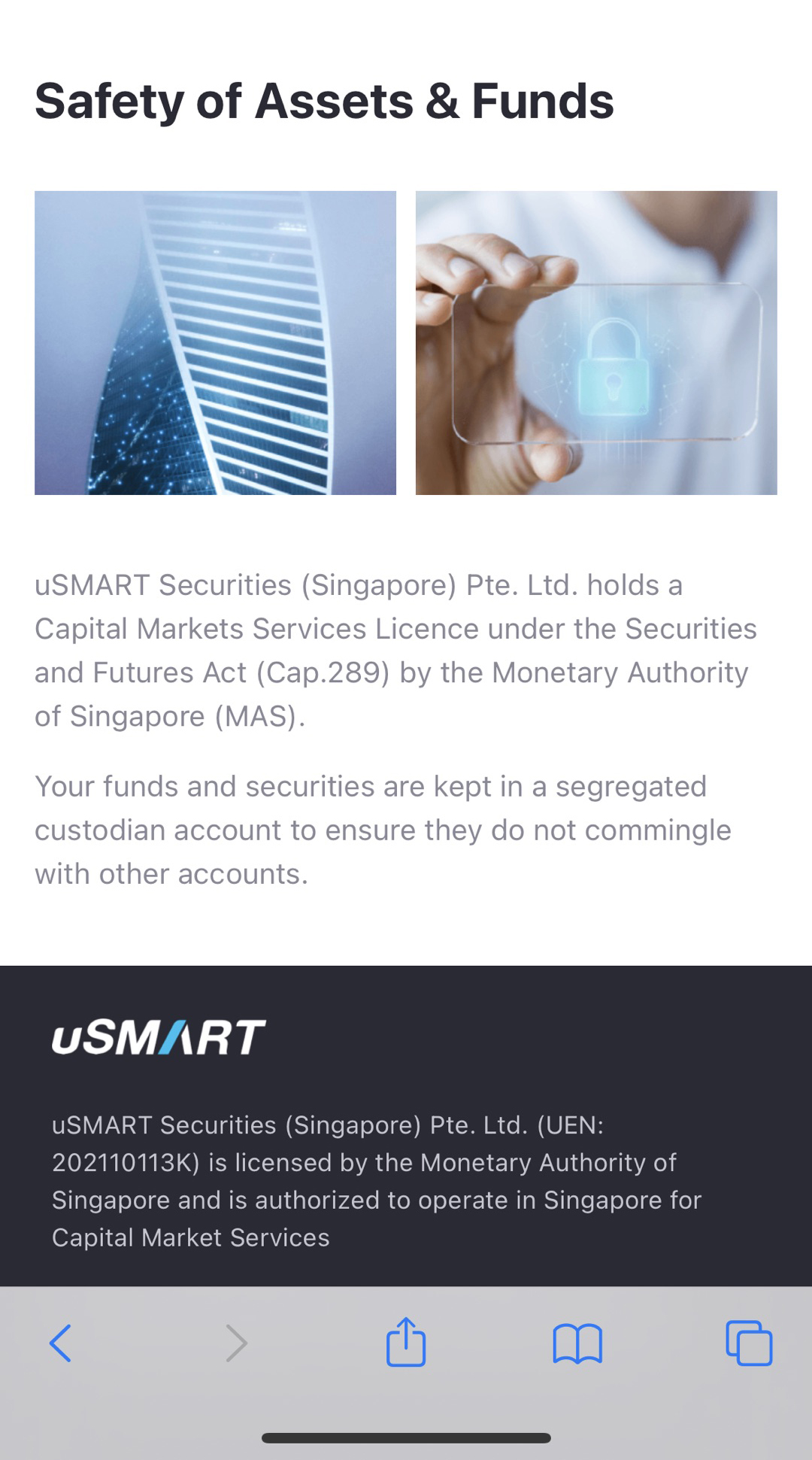 Screenshot: uSMART 
2. Do your homework before trading
Do you know the difference between "put" and "call"? If the answer is no, then you might want to wait until you have a better understanding of trading techniques before executing a trade, especially one using leverage (which is very risky, even for seasoned traders).The worst thing you can do is to blindly follow an online tutorial without understanding the real reason behind why you are executing a particular kind of trade.
Says Ian Leong, CEO of uSMART Singapore: "Your choice of broker should be one that supports your need for knowledge. The idea is to have one that offers you easy-to-understand content for you to self-learn, as well as courses or guidance from experts if you'd like to go deeper."
Admittedly, some of the research can be very dry, and you probably have more fun things to do on the weekend than poring over such sleep-inducing chimology walls of text. But that's okay, you don't have to become an expert overnight. Take things step by step, read up a bit every day before you take the plunge and start to execute advanced trades or trade on leverage.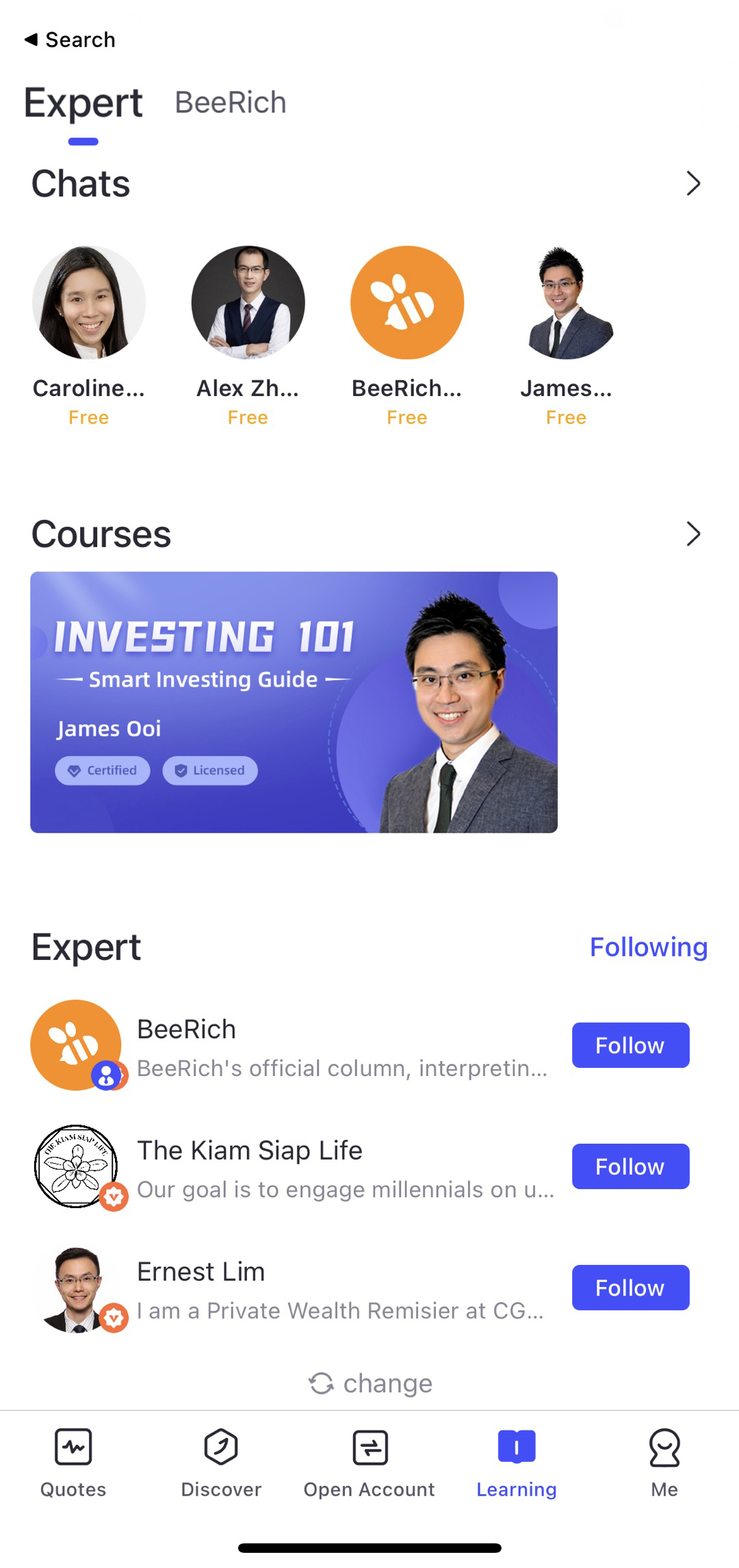 Screenshot: uSMART 
3. Do your sums and have a plan
Trading shouldn't be something you do haphazardly, buying or selling stocks based on your gut or your horoscope for the day. Financial analysts study a ton of charts for a reason, and even robo advisors trade based on a complex algorithm.
When you log into an online brokerage's mobile app, you will see plenty of numbers and charts showcasing all sorts of information for traders. If you don't understand what they mean, don't panic — it's not rocket science, and with a bit of study you will understand how the data can help you in your trading decisions.
When you're finally ready to take the plunge, always make sure you are trading with money you can afford to lose, because all investments come with risk, no matter how small. All of your trading decisions should also be made with full cognisance of the details of your trade and it fits into your plan.
For instance, if you plan to buy a certain stock or ETF, you must know what price you're paying, have done research about the company and formed your own conclusion about the company's potential for growth.
You should also have an idea of how long you plan to hold onto the stock, what you intend to do in times of volatility (like now), and what you foresee yourself doing with the investment in the future. Will you buy and hold on to it for years, or are you just buying to profit from short-term volatility? These are questions you should answer before buying.
Introducing uSMART, a one-stop mobile app and education hub
uSMART is an online broker, regulated in Singapore by the MAS, with a new mobile app that is being launched on all mobile app stores. The company was founded in 2018 and has headquarters in Singapore, with presence in Hong Kong, China and New Zealand, as well as a global workforce of 400. More importantly, uSMART, which prides itself as "Singapore's first smart broker" (geddit?), ticks all the boxes mentioned in our checklist.As an MAS-regulated broker, uSMART has all the necessary licences to operate in Singapore. All funds and securities are kept in a segregated custodian account, so you don't need to go through the hassle of opening a separate CDP account if you don't yet have one.
One of uSMART's key strengths is their resources for newbies and those who want to level up their trading skills. uSMART's Learning Tab includes educational courses, which are kept light-hearted so you don't get bored or discouraged, and chatrooms where you can have your burning questions answered by financial experts.
In addition, newbies would find that uSMART's features like "Daily Stock Picks" and "Featured Strategies" help to give you suggestions/ideas on what to invest in and how to do it.
uSMART also offers a suite of tools that gives you all the information and analysis you need to make smart trades. Their Discover Tab helps you do technical analysis and value analysis, while intelligent screeners and smart order types help you to execute trades the way you want them.
uSMART lets you trade on Singapore, US and Hong Kong markets and also offers US options. Signing up for an account with them is easy — all you have to do is download the uSMART app.
Sign up for a uSMART account and receive cash vouchers. 
Disclaimer:
This article is written in collaboration with uSMART Singapore. All views expressed in the article are the independent opinions of MoneySmart. This article is intended for information purposes only and should not be construed as financial advice. This article has not been reviewed by the Monetary Authority of Singapore.