by SmallCapAsia, April 2022.
Article Highlights
uSMART – The SMART Broker has finally come to Singapore!
Offers light-hearted learning content & courses on the platform.
A variety of SMART features to make investing easier
Provides access to global markets and products with the lowest rates in town.
The incumbent discounted brokerage apps like Tiger and Moomoo have resulted in a much-needed revolution in the brokerage space with the ease of account opening, intuitive app interface and cut-throat commission fees.
However, it would be good to just include 2 more segments that investors could benefit from – Learning & Smart features.
This is where uSMART stands out with their short video content & various intelligent features like SMART orders.
But before we delve into this, lets check out about uSMART's profile.
Who is uSMART?
uSMART's Hong Kong app launched in July 2019 and its and services were well-received by the public and resulted in them winning the "Most Innovative Data Provider of the year award" from the Hong Kong Exchange.
In Feb 2021, uSMART completed a series B funding of USD 100m with the aim of accelerating research and development of products and services.
HK-listed conglomerate and jeweller Chow Tai Fook Group became one of uSMART's strategic investors.
uSMART Singapore successfully secured the Capital Market License (CMS) from MAS in December 2021.
Within a short 4 months, an investment app – uSMART SG was developed to cater to the needs of investors in this region.
Akin to other online brokers, uSMART SG app offer investment products such as Stocks, ETFs, Warrants and REITs in global markets like U.S., SG and HK. They also offer the popular U.S Options too.
That said, as its name suggests, the real distinction of uSMART is how it offers investing beginners the ability to learn about investing via light-hearted content & educational courses which we will discuss below.
Level up your investing knowledge via uSMART Learning app
The mission of uSMART is to provide leading smart investment services to global investors through 3 guiding principles – Learning. Intelligence. Community.
This is why they are so big on the 'Learning' segment where investors can slowly pick up their investment knowledge through light-hearted content and free (yeah!) courses.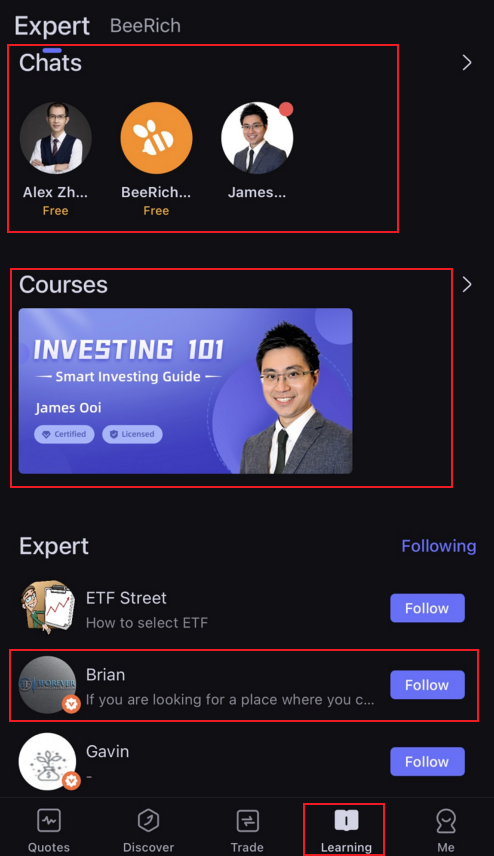 From the above screenshot, you can see that you can actually initiate a chat with the investing Experts 'in the house'.
You can also follow the Experts and be updated with the blog posts written by them.
One example as shown is Brian – renowned founder of 3Fs, one of the leading money management & investing experts in Singapore.
What if you are a beginner looking for some free courses?
Head over to the 'Course' segment and you can watch the few bite-sized videos dedicated to get you up to speed.
And finally, if you are at a loss of what to do in this volatile market or have some burning questions, you can hop over to the 'Ask' segment to tap on the expertise of these Experts.
BeeRich
Want to learn financial concepts in fun and bite-sized educational content?
Then look no further than BeeRich – the 1st ever 'FinTok' platform that mashes up financial content in the form of short videos.
Here are some screen grabs of how it looks like:
Now that uSMART's BeeRich make it so easy and fun to learn about investing, there's no reason not to sign up for a free account today!
Take Action: Open a uSMART account to check out this BeeRich FinTok feature and maybe you will see me appear in the videos soon!
Global Market & Products
For seasoned investors, you would be glad to find out that uSMART also support the global markets like US, HK and Singapore.
Under the 'Quotes' segment, you can navigate to the various industries and investing products based in the 3 countries. Some of the industries include Marine, Industrial conglomerates, Entertainment and more.
For instance, one can go to the 'Quick Access' section and click on any of the REITs, ETFs, Warrants or DLCs within the Singapore market.
US stocks are also another must-have and you can see a lot of essential details based on the Tesla screenshot I grabbed below.
Apart from the usual fundamental information, news and analytics, you can also leverage on their options and 4 smart order types as shown below:
I like the simple concept behind smart order types and how investors can understand and execute them quickly. Basically your order will be placed when it hits the condition you set!
For example, the share price of Tesla is $1088 now. You think that Tesla's price will go even higher after breaking $1300 and you wish to buy immediately when that happens.
Instead of monitoring every single minute, you can set a Breakthrough Buy SMART order with trigger price at $1300. You also have the flexibility of indicating price level or market price for your buy order. For my case, I set it as $1350 and the SMART order will be valid for 90 days.
A week later, Tesla share price hits $1300, your Breakthrough Buy order is triggered and your buy order for 10 Tesla shares at $1350 goes into market when perhaps you were sleeping soundly!
This is definitely a quick and easy way to free up your time from the constant monitoring.
Discover Stock Ideas
Last but not least, users can also filter for pre-defined Fundamental or Technical screener using uSMART's 'Discover' tab.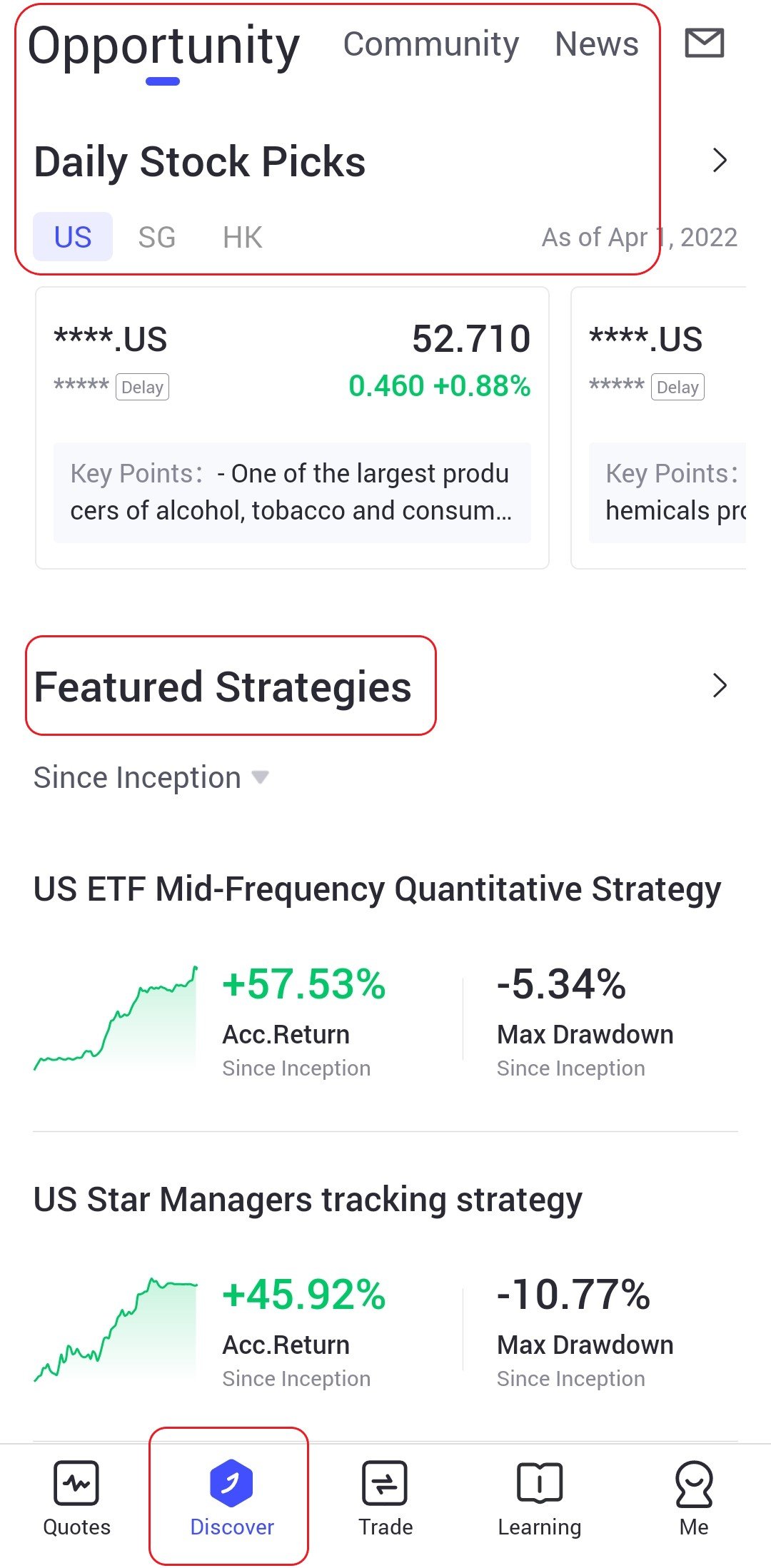 This is incredibly useful for users who don't know what to screen for and want some ideas within a few taps of your finger.
Daily Stock Picks
These daily stock picks are those deemed to be stocks with high potential price increase in the upcoming days.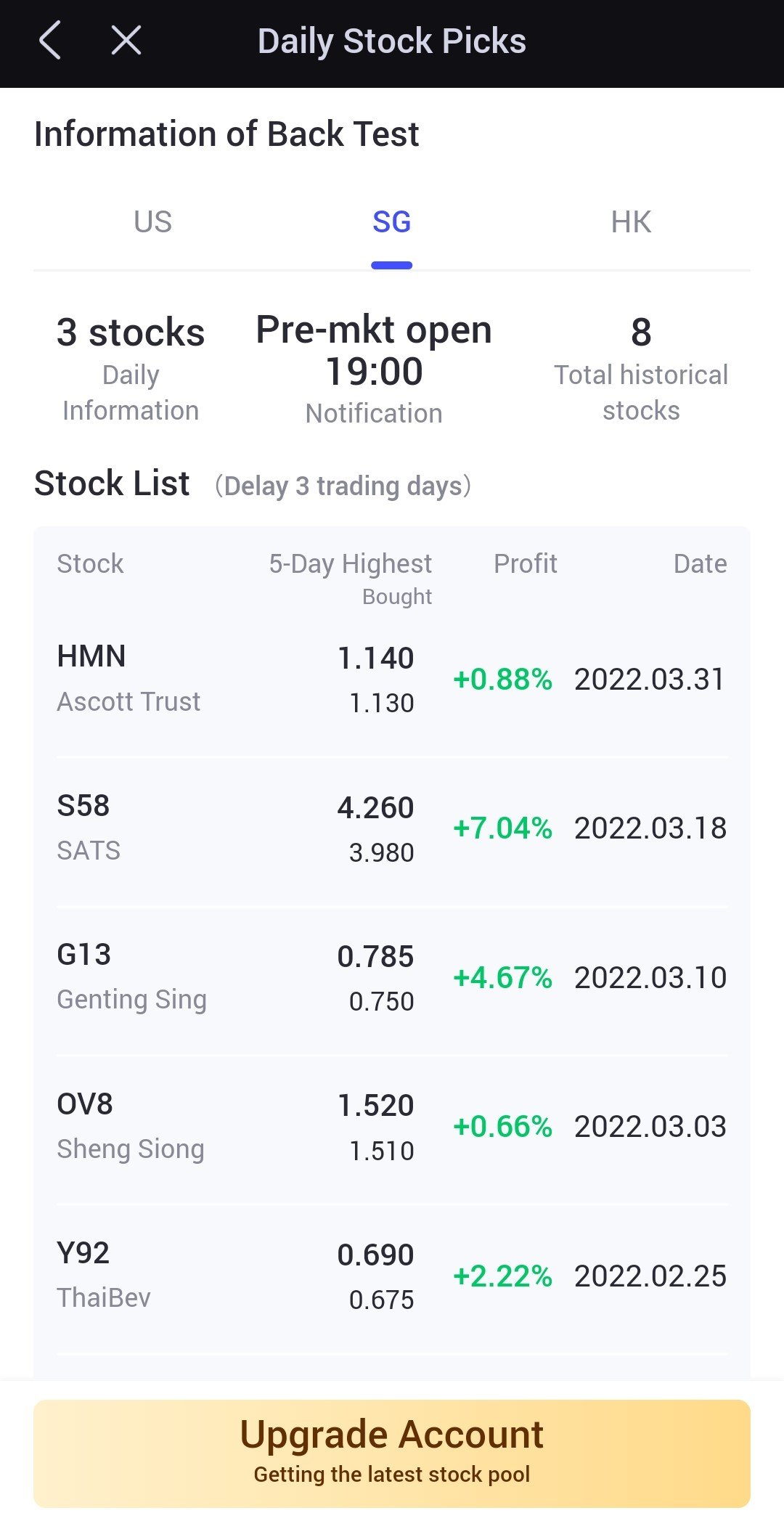 They are specially hand-picked by the uSMART chief analyst and investment team which analyzed nearly 10,000 variables of thousands of stocks including the fundamentals, news, value and technical analysis.
Featured Strategies
On the other hand, you can also check out the featured strategies like the US ETF Mid-Frequency Quant Strategy which scored an accumulated return of 57.53% since inception date 2nd Jan 2019.
I am also excited to see this Global Barbell ETF Portfolio, of which it generated an annualized return of 21.85% by investing in sector/thematic ETFs at both ends of the risk spectrum. The Growth ETFs focus on long-term secular trends such as cloud computing, semiconductor and autonomous driving/EV.
If you are on Standard account, you are given a fixed number of uses for each feature. In order to unlock the premium intelligent tools curated by uSMART's investment team, there are 2 ways to do this:
1. uSMART Intel account
Open an uSMART account and have net assets of at least S$3,000.  Go to Me > To upgrade and select upgrade account. This will upgrade you to Intel account where you can enjoy unlimited access of the intelligent tools. The slight drawback is that Intel account has higher brokerage fees.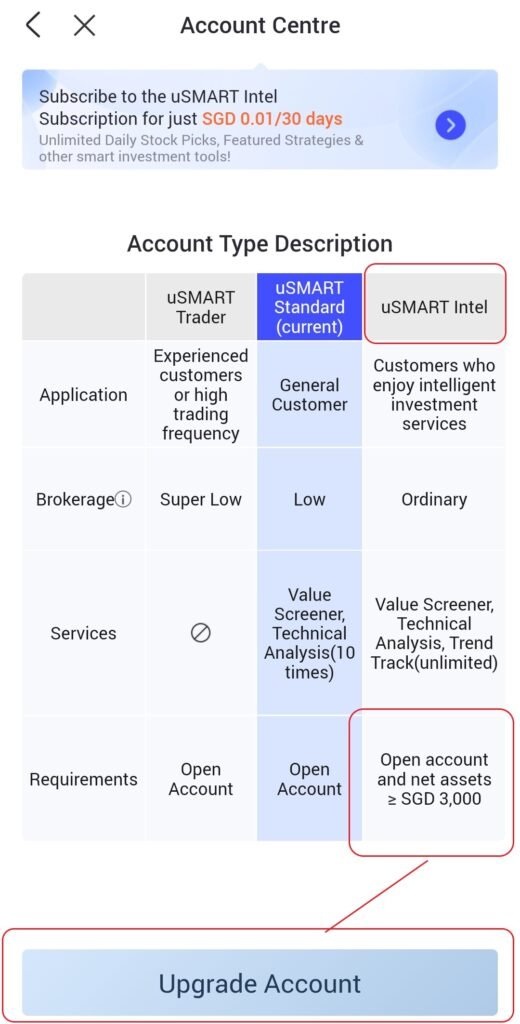 2. uSMART Intel Subscription
Alternatively, you can maintain your Standard account and simply subscribe to the Intel subscription. Currently it is available for just $0.01 for the first 30 days (subsequent renewal is $18.80/30 days). Pretty attractive I would say!
Take action: Open a uSMART account to get access to the uSMART Intel subscription today! 
One of the lowest Commission and Fees
Users would also be elated to know about uSMART's Trader account offering one of the cheapest rates in town.
According to its pricing table above, US Stock commission comes in at USD 0.003 per share with a minimum USD 0.50 per order and platform fees go for USD 0.003 per share with a minimum USD 0.50 per order.
Things get even better for the SG stock market where there is no min. commission for SG stocks! There's only a total fee of 0.05% for the transaction amount.
That means if I buy 100 shares of DBS at S$35.00, the only fees you need to pay is $1.75 (0.05% of 3.5K)!
From my understanding, uSMART offers one of the lowest, if not the lowest rates in town!
How to Fund uSMART account
When it comes to the funds deposit, uSMART also takes the lead in the number of deposit methods.
1 new method worth mentioning is the eGIRO for funds deposit where your monies will reflect in your uSMART account within minutes. I believe uSMART is the first broker to offer eGIRO. It is also easy to do the 1-time setup and will eventually support up to 9 banks in Singapore.
uSMART's Welcome Package and Promo Code
The most exciting part of all?
The welcome package!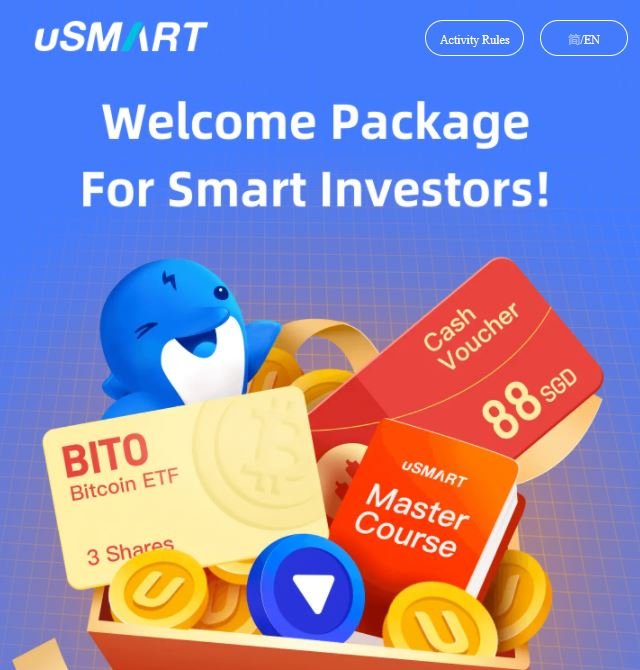 For now till 31 May 2022 24:00 (GMT +8), new uSMART users who sign up to uSMART SG and deposit (in a single transfer) at least S$2,000 will enjoy the following: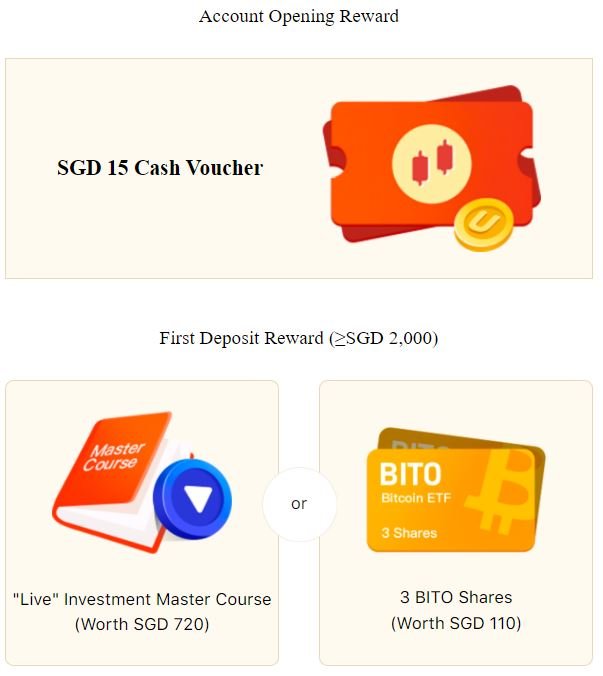 FREE US and SG market Level 1 Live Price
S$15 Cash Voucher
A FREE "Live" Investment Master Course (worth S$720) OR 3 X BITO.US shares (worth S$110 as of 1st Mar 2022)
For those uninitiated, BITO.US is called the ProShares Bitcoin Strategy ETF and is linked to the Bitcoin's future contracts' prices.
This means you can get exposure to Bitcoin simply by opening an account and depositing at least S$2,000 today.
Summary
All in all, I think uSMART is set to be the next revolutionary investing app with its innovative SMART features on top of the usual offerings like low commission fees and ease of accounting opening.
As Warren Buffett once said,
"The best investment you can make is an investment in yourself. "
The icing on the cake is that technology has made it so easy for anyone to get up to speed quickly with uSMART's E-courses, bite-sized Fintok videos and ability for anyone to ask investing related questions to uSMART strategists and experts.
Without further ado, Sign up here now and invest alongside uSMART SG in Singapore!
This article is written in collaboration with uSmart but the views/opinions are of my own. This advertisement has not been reviewed by the Monetary Authority of Singapore.