On May 18, 2022, local time, a poster with the theme "Asian Leaders of 2022" landed at Times Square, New York, USA, lighting up the Nasdaq exterior large screen, known as "the world's first screen". Some well-known business leaders have been invited to board this world-famous wealth icon in recent years, from which they will express the voice of Asian enterprises to the rest of the world.
Mr. Hung, CEO of uSMART Group, stood on the massive Nasdaq screen as a representative of exceptional Asian entrepreneurs to showcase to the world the demeanour of a new generation of social-learning intelligent securities companies. Mr. Torry Hung has accumulated and generated over ten years of professional experience in the field of financial technology. Notably, playing a big part of developing the backbone of Alipay's massive transaction system and Tencent's product and globalisation projects.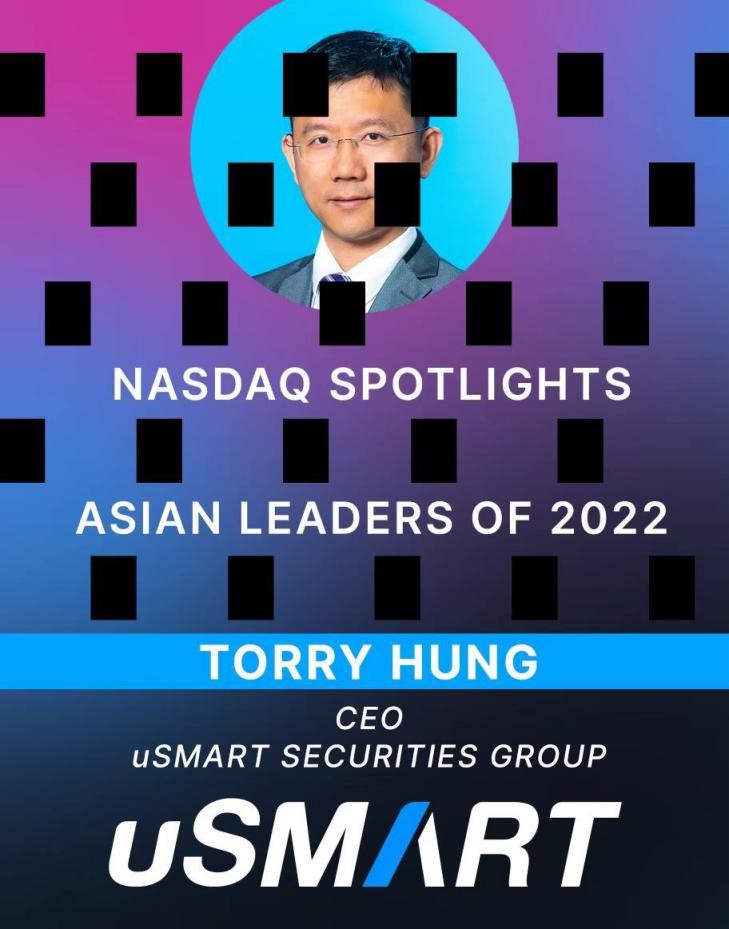 (Mr. Torry Hung, CEO of uSMART Group, appeared on the Nasdaq screen.)
The uSMART Group's subsidiaries hold Hong Kong SFC No. 1/4/9 licenses; Singapore CMS licenses; and New Zealand FSP licenses, and are dedicated to offering investment education, securities trading, underwriting, ECM, asset management, and wealth services to global customers. Investors adore the uSMART App, which is part of the uSMART Group, for its simple trading interface, excellent user experience, and wide range of investing alternatives. It has been successful in many rounds of capital market fundraising. Chow Tai Fook Enterprises and other Hong Kong alliances are among its shareholders.
The uSMART Group is always led by the demands of its customers and is committed to technological and product innovation. Investor education services are provided for newcomers to the market; smart investment functions such as smart orders, smart stock diagnosis, and today's trending stocks are provided for ordinary investors; PC/API trading methods and T/VWAP order trading are provided for professional investors; and fully entrusted financial management services are provided for white-collar users who do not have time to manage their own assets. uSMART Securities has created the asset management account, which is a fully entrusted financial management account. After users submit asset management, they will be managed by a professional team. The strategy is dynamically adjusted, and the whole process is open and transparent. And the minimum investment starts at 10,000 Hong Kong dollars, covering Hong Kong, the United States, and A-share markets, allowing users to realize a variety of investments with a small amount of capital. Users will be managed by a competent team after submitting asset management. The strategy is dynamically adjusted, and the entire procedure is open and transparent. The minimum investment is 10,000 Hong Kong dollars, and it covers the Hong Kong, US, and A-share markets, allowing customers to make a range of investments with a modest amount of money.
uSMART Securities just launched a fractional share trading feature. The fractional share function allows you to trade fractional shares of US stocks.
The minimum support for decimal shares, such as 0.0001 shares, is four digits after the input. Furthermore, the fractional share function has no minimum deposit requirement, so you may invest as little as $1 in your favorite high-quality stocks and ETFs, considerably lowering the threshold for user asset allocation and stock investment, and tiny capital can also diversify investment. At the same time, customers can open the trading authority for fractional shares of US stocks at any moment, regardless of whether the opened US stock account is a cash account or a margin account.
uSMART Securities, which is centred on services, uses technology to alleviate users' pain points while also contributing to financial technology advancement.
The objective of the uSMART Group has been to provide users all over the world with leading intelligent investing services. Being featured on the Nasdaq screen in New York's Times Square is a strong endorsement of the company's international strategy and brand. There are reasons to assume that the group's globalization journey will be more stable and far-reaching than previously thought.